Press Releases
View our most recent news items.
2 Pittsburgh CEOs Launch Velocity Fund; New Private Equity Fund Targets Promising Companies in the Health Care Industry
Fund Announces First Acquisition of Global, Clinical CRO And First Investment in Promising Skin Cancer Treatment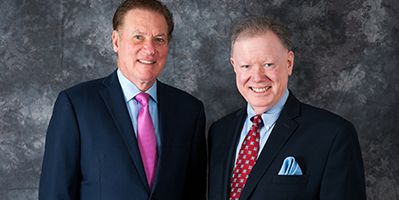 Former Healthcare CEO Ken Melani Partners with Pharma Leader Jim Nolan
PITTSBURGH (August 3, 2016) — Two accomplished CEOs – one from the health care industry and the other from the pharmaceutical field – have joined forces to launch Velocity Fund Partners, a private equity fund targeting the life sciences and health care services sector within the health care industry. Velocity also announced its first acquisition of a global contract research organization (CRO) as well as a significant investment in SkinJect, a novel method to treat skin cancer.
Kenneth Melani, M.D., the former president and CEO of Highmark Inc., and James M. Nolan, CEO of several life sciences companies, are the Partners of Velocity. The fund targets companies in the pharmaceutical, device, medical service, and diagnostics spaces.
"We focus on companies that offer a significant scientific or market advantage," said Melani, Managing Partner of Velocity. "Our unique background in health care management can help accelerate a company's trajectory from a commercialization and a growth perspective."
Velocity's first acquisition is a global clinical CRO that it has rebranded as InClinica. Working across all phases of clinical development, InClinica claims a particular strength in assisting small and mid-sized companies entering first-in-man and phase II clinical studies. Its clinical team has led trials around the world in multiple disease states – such as oncology, inflammatory, and metabolic diseases – and medical device technologies.
Headquartered in the Valley Forge area, InClinica has locations in the U.K., Israel, Australia, and Asia. Nolan, Operating Partner of Velocity, will also serve as its CEO.
The fund also made a significant investment in SkinJect, a novel device that will treat basal and squamous cell cancer. Developed by Louis D. Falo, M.D., Ph.D., Chairman of the Dermatology Department at the University of Pittsburgh, and O. Burak Ozdoganlar, Ph.D., Professor in Mechanical Engineering and Materials Science and Engineering, Carnegie Mellon University, SkinJect is a patch that delivers a drug through dissolvable microneedles.
SkinJect will offer a simple treatment for patients and provide a cost-effective alternative to surgery. SkinJect will help patients avoid the disfigurement that often results when a basal cell is removed by scalpel in a procedure known as Mohs surgery.
"Velocity Fund Partners has launched with two very strong companies in its portfolio," said Nolan. "We are in discussions with several other promising companies. We look forward to growing our portfolio with additional scientifically driven opportunities to which we can lend our significant management expertise and industry connections to help accelerate their growth."
Other members of the Velocity Fund Partners management team are: Michael Fare, who serves as Chief Operating and Technical Officer; and Joseph Donnelly, who serves as Chief Financial Officer. Fare has more than 30 years' experience in drug discovery research and business development. Donnelly has more than 30 years of experience in the health care industry, working as both a consultant and a financial manager.
# # #
About Velocity Fund
Velocity Fund Partners is a private equity firm that targets products and healthcare services in the life sciences industry. Velocity Fund was founded in 2016 by two CEOs with diverse but complementary backgrounds in healthcare and life sciences. With a team of leaders in operations and finance, Velocity Fund seeks out life sciences companies in the pharmaceutical, device, medical service, and diagnostics spaces that offer a clear scientific advantage.